Ashwagandha has been used for centuries for a wide variety of conditions, and is regarded as one of the most powerful herbs in Ayurvedic healing. With this amazing herbal supplement becoming increasingly more popular over the last few years. Vox Nutrition is proud to announce our new private label ashwagandha vitamin supplement to our line of herbal supplements.
Benefits of Ashwagandha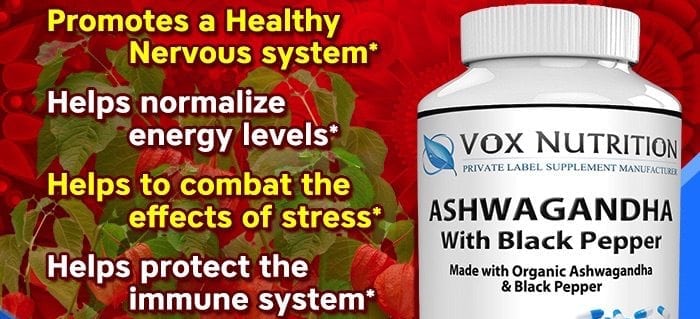 Ashwagandha naturally contains a variety of extremely useful nutrients. Providing the body with the things it needs to fight several aliment. Below are just a few of the many benefits this powerful herb can help the body with, through regular supplementation.
Promotes a healthy Nervous System
Helps regulate healthy energy levels
Combats the effects of stress
Helps protect the bodies Immune system
Helps to reduce brain-cell degeneration
Natural Nootropic to help with memory and brain function
Why Sell Our Private Label Ashwagandha? 
Over the last several years the amount of people looking for natural supplements that help with lower stress levels, have been on the rise. Coupled with several studies predicting that the demand for natural stress relievers are going to double in 2018. There is no better time to expand your line of supplements to include Ashwagandha then now.
Our new Private label ashwagandha with Black pepper vitamin supplement. Is a certified organic product, that has 1300mg per serving and is sure to help you boost your supplement sales. Contact us here to order your private label supplements today.